Endurance T10HRC Treamill
$4,300.00
$2,499.00
*Free Shipping & No Tax
Availability : In Stock
Product Type : Treadmill
Vendor : Endurance
SKU : T10HRC
FEATURES ENDURANCE warrants the Light Commercial Warranty as follows: 15 YEARS on Frame 3 YEARS on Parts 2 YEARS on Electronics (excludes batteries) 6 Months on Wear Items 1 Year on Labor ENDURANCE warrants the In-Home Warranty as follows: LIFETIME on Frame LIFETIME on Parts 1 YEAR on Labor The Endurance...
FEATURES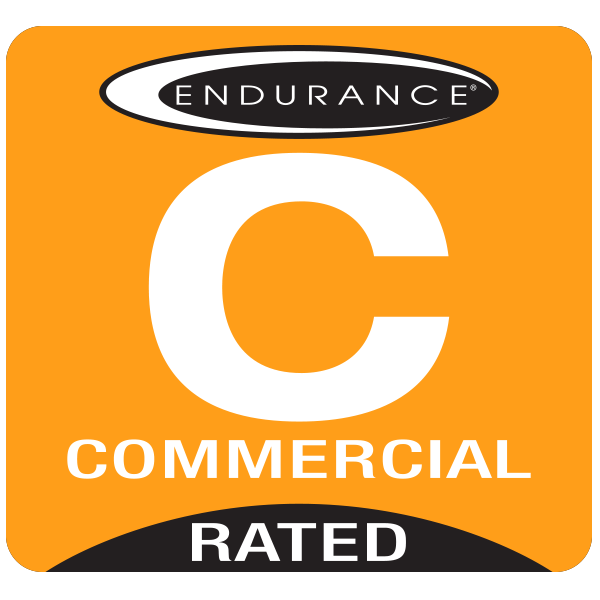 ENDURANCE warrants the Light Commercial Warranty as follows:
15 YEARS on Frame
3 YEARS on Parts
2 YEARS on Electronics (excludes batteries)
6 Months on Wear Items
1 Year on Labor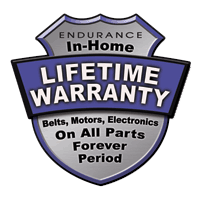 ENDURANCE warrants the In-Home Warranty as follows:
LIFETIME on Frame
LIFETIME on Parts
1 YEAR on Labor

The Endurance T10 affords you a top quality workout.
Compare the features of the Endurance T10, and you'll discover how quality components, precision engineering, state-of-the-art electronics and the best warranty in the industry combine to make Endurance the premier name in home cardio fitness.
Rigid Steel Frame Construction. Heavy-duty 2" x 3" and 2" by 4" steel frame construction delivers a rock-solid platform for hardcore cardio workouts. The Endurance T10 is built to withstand constant pounding and jarring.
Lifetime Tread belt and Shock Absorbent, Low Maintenance Deck. Unlike other brands, Endurance tread belts are guaranteed for life. Plus, our ultra low maintenance phenolic deck employs a SRS (Suspended Running Surface) design supported by a multi-point shock absorption system. What this means is that your knees, hips, ankles and feet will feel comfortable, even during long marathon sessions.
Extra Thick and Durable Tread Belt. Multi-ply tread belts are fusion-seamed for strength, flexibility and smooth travel over the phenolic deck. Unlike other brands, Endurance tread belts are guaranteed for life.
Powerful Motor. Endurance motors are designed to exceed horsepower and performance standards for home-use treadmills. Each motor is protected by P.W.M. (Pulse Width Modulation) technology and air-cooled for efficient performance. The integrated circuit breaker protects the motor and control boards from power surges.
Bright LED displays let you monitor your running track and provide you with constant feedback on your workout, including heart rate, elevation, time, distance, speed and calories burned.
Large Diameter Crowned Rollers. Casehardened steel rollers feature a large diameter design with a wide-radius crown to drastically decrease wear, substantially increase surface contact and provide superior belt tracking.
Safety Key Stop System. Endurance treadmills will only operate when the safety key is engaged on the control panel. This gives you the ability to instantly shut down operation if you need to.
Quiet Performance. The Endurance Poly-V Belt Drive System delivers an amazingly quiet workout experience, allowing you to watch TV or read a book without being distracted by machine noise.
HRC

To get an optimum workout, it is important to properly pace your program. You want your heart rate at the precise intensity level for an extended period of time. If your heart rate gets too high, your activity can become counterproductive. If it is too low, you are not getting substantial health benefits.
That is why one of the most effective methods for fitness training is through monitoring and controlling your heart rate. This is particularly true when striving for cardiovascular goals. Whether you want to shed a few pounds, train for a marathon, or just feel good about yourself, heart rate training and control can optimize your workout.
The Endurance T10HRC comes equipped with Heart Rate Contacts as well as a Heart Rate Control Chest Strap. The Heart Rate Control Strap sends your heart rate information to the console for processing.The automatic adjustment helps ensure that a trainee gets the maximum benefit from each session; it takes the guesswork out of judging when to speed up or slow down.
PROGRAMS
The T10HRC features preset programs includinh ndurance, Running, Interval, Cardiovascular, Walking, Custom Learner, Distance, Calories, Time, Manual, Fat Burn, and Heart Rate Control featuring a HRC Chest Strap for accurate measurement. The T10  lets you know where you stand with multiple read-out screens and more than enough information to keep you going.
MANUAL(includes SET-TIME, SET-CALORIE and SET-DISTANCE)
The Manual workout let's you control the effort. Change your effort level and speed to challenge yourself. Press the MPH Bar and Start button and you're working out instantly.
SET TIME (MANUAL WORKOUT WITH TIME GOAL)
Set the duration of your workout and get to it! The count down of the time goal is displayed in the Main window and keeps you motivated.
SET CALORIES(MANUAL WORKOUT WITH CALORIES GOAL)
Need to burn off that milkshake? Set the number of calories and get to work. Watch as you burn off calorie after calorie.
SET DISTANCE(MANUAL WORKOUT WITH DISTANCE GOAL)
Training for your marathon? Increase your endurance by gradually increasing your distance.
CUSTOM LEARN (1&2)
Do you like to work hard in the beginning of your workout and coast towards the end? Or do you like an easy warm-up and  gradually increase the effort level? Create your perfect workout with the Custom Learn workout.
WALKING COURSES (3)
The walking courses add a lower degree of effort to your workout but are still very beneficial. Low impact with high results.
RUNNING COURSES (3)
Let the treadmill create a challenging workout for you! After entering your weight, the Manual workout will be selected.
CARDIO 15 MINUTES
The first step to a healthier heart! A workout profile to raise your heart rate to a higher level effectively helping your heart become stronger.
INTERVAL 20 MINUTES
Want a slightly greater challenge? Tone-up and continue your exercise regiment with the Interval 20 Minute workout. The Interval 20 Minute workout has eleven sessions. The first session is the Warm-Up and the eleventh session is the Cool-Down.
FAT BURN 25 MINUTES
Really get into the zone! Raise your heart rate to the proper level and use the duration to burn away! Twenty-five minutes to really feel the progress.The Fat Burn 25 Minute workout has thirteen sessions.
ENDURANCE 30 MINUTES
The ULTIMATE workout! Build your endurance and feel the burn! The Endurance 30 Minute workout has thirteen sessions.
HEART RATE CONTROL
Choose your Maximum Heart Rate (MHR) for proper control of your workout!
99.9% of the time orders are handled in a timely fashion with no foreseen issues. It's still important that you are fully informed and aware of our shipping and return policies.
Shipping Over $99 Is Free.
All in stock orders ship in 3-7 business days after orders have been processed. We will notify you via e-mail once a tracking number has been issued. You may also check on your order by opening a live-chat or sending us an e-mail at info@ecomfortliving.com
A tracking# will be issued within 5 business days for all orders.
RETURNS
We understand that your purchase may not live up to expectations. That is why we offer
Free 30-day returns on all orders
. If you're not happy with your purchase simply let us know by e-mail and we'll start the return process.
Returns only apply to brand new, unused, and unopened items. In all other instances returns are not applicable and will not be accepted. We do not accept returns after 30 days.
To return your purchase please contact us at info@ecomfortliving.com.
Once your returned item has been deemed free of 'damage by use' we will issue you a refund minus restocking fees. All returns are subject to a restocking fee. This does not include defects due to faulty manufacturing. In these instances you will not be charged any fees and sent a replacement free of charge.
Accepted Return Example:
You received your purchased and realized it's not what you had in mind. Although you may have opened it, you did not damage the packaging or product in the process. After your return is inspected and accepted by our shipping department, we will issue you a refund.
ITEM RECEIVED BROKEN AND/OR DAMAGED
*You Will Not Spend A Dime Extra* - We Take Care Of Our Customers.

All orders ship by UPS and FedEx. With that being said as reliable as they are we take full responsibility if your item is received damaged. If your purchase is received damaged please contact us right away with photos of the damages. Once everything is confirmed we will issue you a RMA# to get a replacement, free of charge. You will not spend a dime extra. We take pride in our customers being satisfied as your happiness is paramount to our success.

REFUNDS

Refunds are processed after items have been returned properly and cleared of damage by use. Once processed, please allow 7-10 business days for funds to show in your account. Keep in mind that if you're returning an order the refund process will take longer due to shipping times, return times, manufacturer inspection and approval of return. Other Questions?

If you have any questions please contact us at info@ecomfortliving.com or open a live-chat conversation for immediate assistance.